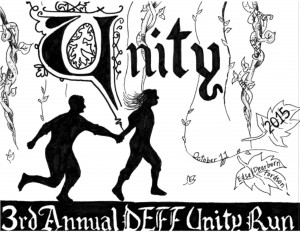 Unity Run
Rivals Unite To Support Scholarships And Promote Unity
Longtime rivals Dearborn High, Edsel Ford, and Fordson (D.E.F.F.) will stand together on Sunday, October 11, 2015 as Dearborn's three public high schools host the third annual Unity Run.
This race is open to students, staff and family members of Dearborn Public Schools and community members interested in supporting the work of the high schools students. The fun begins at 9:30 with a 1 mile walk open to all. Elementary students will hit the course at 10:00 a.m. for a 1 mile race followed by a 2 mile race for middle school students starting at 10:30 a.m. High school students and adults will be able to take part in a 5K run starting at 11:00 a.m. Medals will be awarded for 1st, 2nd and 3rd place (male/female) in each event except the 1-mile walk.
For more information and/or to register for the DEFF Unity Run visit:
https://goo.gl/forms/wSo5iYpwo4 or
https://www.runmichigan.com/calendar/event_detail1.php?recordID=13236
You can also follow the Unity Run on twitter at-UnityRunDEFF or Facebook.com/deffunityrun.